Today we received our 11th free egg! That's right we have 2 egg-laying chickens giving us free eggs!
Introducing: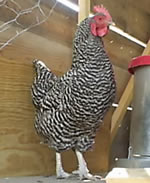 (Silly) Sally is the most skiddish chicken I've ever seen. We call her Silly Sally because if you get within 5 feet of her she starts darting around and clucking frantically as if you are the grim reaper here to collect her soul.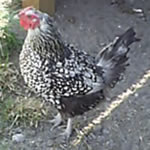 Silver understands that we aren't trying to kill them, and hangs out a little closer to humans.
We calculated out that 1 dozen "Naturally Nested" eggs costs $2.50 (or a little under $.21 cents) each. We calculated how much money we've spent on the chickens so far, and how many "free" eggs they'll have to produce to break even…
They owe us 577 more eggs. Hahaha. We'll keep you posted on how they are doing in repaying their debt.
lol
-Ashton