The road in front of our house is almost never used. Our neighbors find that it's faster to drive away from us to get to town. That means we are farther from town than all of our neighbors no matter which way we go, but that's fine cause we almost never have traffic on our road. Emphasis on "almost."
About a mile North of our house is a cow farm who apparently uses our road to herd their cows. We've been here for a month and haven't seen them before, but this is what happened:
We hear "Moo"ing outside, so we go to check it out, and are presented with this: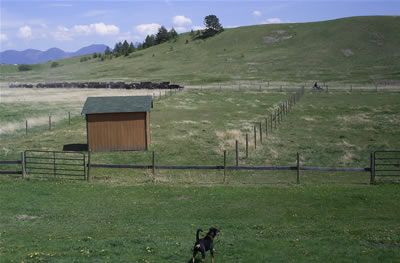 Here's another close up of the cows: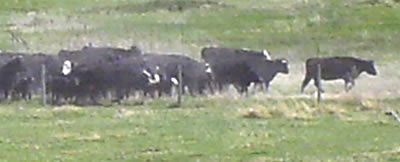 Wow… That's a lot of cows. Apparently the horses thought so too, because they were running around frantically trying to get as far away from the cows as possible. At this time, we had Liana (the grey) and Onora (the two-year-old bay) in the arena, and Jett (the black horse) and Ossette (the older bay) in the coral that you see in the picture above.
In this picture you see Jett and Ossette looking at the cows, and Liana and Onora are hiding just off to the right of the screen.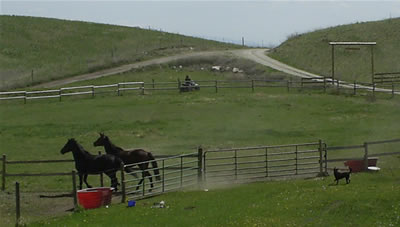 Just after I took this picture, Liana and Onora both jumped through different fence posts! They just couldn't stand being that close to the cows, so BAM! They were out.
(Note the broken fence post in this picture. Thats the one that Onora jumped through.)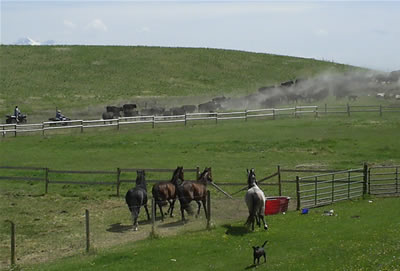 Lianna jumped through a fence post off to the right, which didn't get her any closer to the others: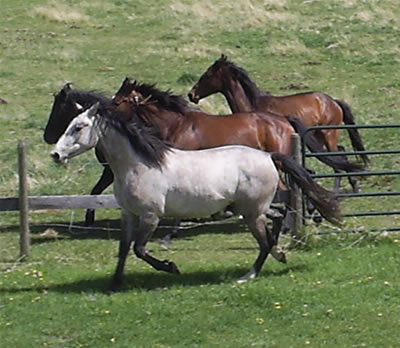 "How did you guys get on that side of the fence?"
Here is a close up of the fence that Liana jumped through: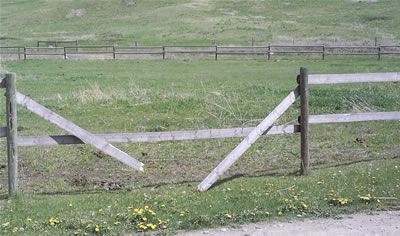 And of course, after the big scare: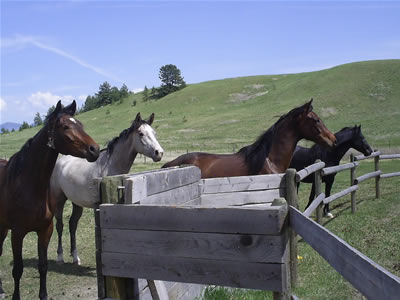 "Where did all those cows go?"
Now if I make a "Moo" all the horses look up at me.
Hahaha!
Good times on the Ranch,
Ashton Sanders