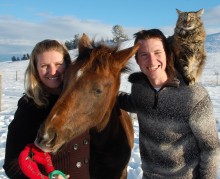 What another great year. 2010 was another whirlwind of adventure.
To the right, you can see our latest addition to our Ranch, Linux, Trakehner colt (boy). You can also see Anna, Ashton and Mocha.
Florida
This year started with a trip to Florida so we could see family and spend time in the Florida sun. We stayed with David and Marcy for few months. Ashton found some beach volleyball players and amazingly got a sunburn in the middle of winter.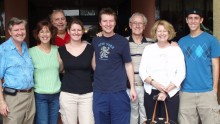 We also got to spend time with Ashton's relatives: Grandpa Joe, Aunt Debbie, Uncle Lenny, and cousins Jared and Evan.
Montana
In June, Anna's Pregnant Mare gave birth to Linux, an adorable, kind colt (pictured above).

Ashton learned how to weave apple pie crusts (and make apple pies).
We had another handful of friends visit us this summer. Grandpa Joe and Geoffrey visited for over a week. It's always so much fun having Grandpa Joe around.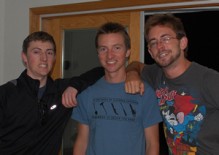 Just before our family came to visit, one of my best friends from school agreed to come and live with us for a year. Ashton has been teaching him websites, and he's been helping Anna with the horses and running the ranch.
While Geoffrey and Ross were here, we managed to have a successful one-day LAN (computer game) party!
November
In November, Anna went to the Florida to visit her friends at Valhalla Farms and attend the American Trakehner Association's Annual Convention. Ashton went to Front Sight for a four-day defensive handgun course, and then to Los Angeles for Delphi LA's Alumni Weekend.
Websites in a Flash
Our website business, Websites in a Flash, has continued to expand. We've been very fortunate to find some very good help and have been keeping them busy with lots of work. We've had a lot of fun working on projects together. We even had a "Formal Friday" where we all went out to lunch dressed to the nines. We have a lot of fun.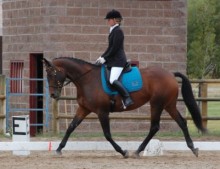 Trakehners and Dressage
Anna has continued to show her horses in Dressage competitions in the North West. She had three successful shows with several first and second placings. She earned second place in her division for Trakehners across the nation!
You can see her horses at http://www.tptrakehners.com/
<3,
Ashton and Anna Sanders