I recently took a very exciting trip for almost 3 weeks to Valhalla Farms in Wellborn, Florida. This was my first time to Florida and to Jean Brinkman's 600 acre farm.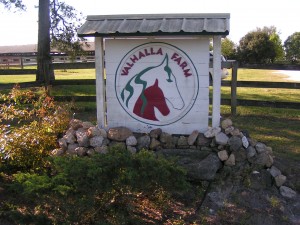 As a lot of you know I breed a type of horse called a Trakehner which is a Warmblood horse originating from Prussia. Jean Brinkman has been breeding Trakehners since the early 70's and helped start the American Trakehner Association (ATA), which is amazing! I met Jean in November of 2008 at the ATA annual meeting in Los Angeles which I attended with a few of my horses. I told Jean I knew I had a lot more to learn about the breed and she very kindly invited me to come to her farm to learn. After I got home from Los Angeles I figured out the best time to go down there and arranged the trip with her.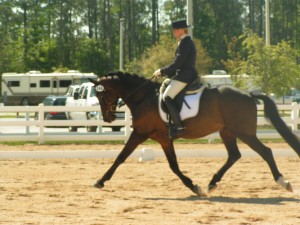 I was gone from April 3rd – 21st and had an amazing time! Flying into Florida was the only horrible part about the trip. I left Montana at 9:00 am and didn't arrive in Jacksonville until 5:00 am the next day due to the storms over Jacksonville. I stayed in a hotel at the airport and got maybe 5-6 hours of sleep then took a shuttle to the Jacksonville Equestrian Center to meet Jean and her Dressage trainers who were competing for the weekend. It was definitely a great introduction to the trip seeing the talented horses and riders from Valhalla at their best.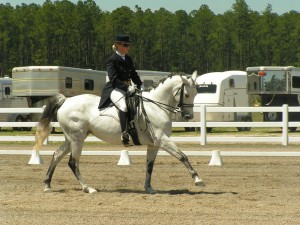 Competing for the weekend was Erin Brinkman on Imminence a young newly approved stallion owned by her mother Jean. Erin was also there with two of her dressage students so I was able to watch her coach them and compete on one of the horses. She placed 1st in all of her classes for the weekend which was very impressive! Also competing for the weekend was Iris Eppinger and her working student Anna Franklin. Iris was riding Prix St George on one of Jean's mares Aura and did very well! Iris also rode a client's horse Etoile who was purchased from Jean and the owner kept the horse in training at Valhalla. Anna rode her horse Walden at 1st and 2nd Level and won 1st place. To say the least there were a lot of blue ribbons hanging around our stalls.